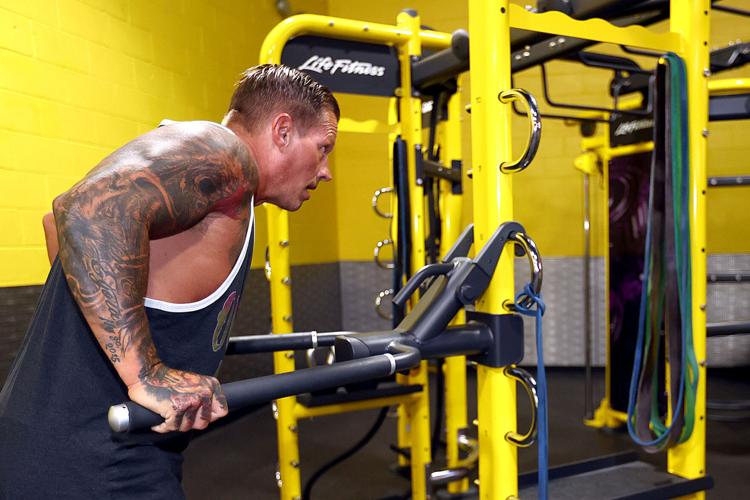 Lately, Brent Wright has been working out for two to three hours a day. He tries to get in two workouts each day — one is spent running and the other is spent doing high-intensity interval training or burpees — four days a week.
He's working on two fitness challenges at the same time. He's also in a competition that could land him a two-page spread in Muscle & Fitness Magazine and bring in $20,000.
Wright explained he's been into fitness since he was young. He would try different competitions and, at one point, he moved to Miami, Florida, trying to land a modeling career. But Wright was an addict at the time and nothing worked out.
Wright's been clean for nearly 13 years now.
Shortly after getting clean, he said, he began taking on challenges fairly regularly. Nine years ago, at the age of 39, he signed up for an MMA cage fighting match. In another challenge, he raised $5,000 for Valley of Grace by running and filming himself.
"Your mind powers everything," Wright said. "I can do stuff because my mind is strong. I learned that from getting clean."
In February, Wright started a 100-day burpee challenge. The number of burpees he does matches the day of the challenge he's on. For example, Monday was the 76th day of the challenge, so he did 76 burpees.
He ran 12 miles Monday morning, too. The other challenge he's working toward is a 50-kilometer ultra marathon set for Sept. 23 in Michigan City. Wright said the marathon, which comes out to roughly 31 miles, has been his biggest fitness goal so far.
The athlete explained he came up with the idea to run the marathon while on vacation. He had been reading a book by David Goggins, a retired Navy SEAL and ultra endurance athlete, when he decided to run 20 miles.
"On that run, I came up with a brilliant idea to run a 50k, because I'm doing the (magazine) challenge. To me, a guy that's representing men's health, you better be in shape and you better be a machine," Wright said. "Mentally, you've got to be that warrior. And that's who I am."
His wife Rachel Wright was supportive of his goal to join the ultra marathon, but a bit less enthusiastic. She remembers riding her bike alongside him while he was training for his first marathon in 2020.
The 26-mile marathon wasn't to be taken lightly. She asked Wright why he couldn't just try to improve his time. She's also a little nervous to find out what the next challenge would be after her husband completes the ultra marathon.
But to Wright, the standard marathon has already been checked off his list of challenges.
Getting clean
Wright was 13 years old when he got into drugs. The addictions — and problems that come along with them — got progressively worse as time went on.
He would still workout during that time, but drugs and fitness didn't mix well.
Near the end of his time using drugs and alcohol, Wright said, he wanted to die.
He remembered having a grand mal seizure and telling a friend who witnessed the event not to call medical help nor contact his family.
Then he got arrested for the 12th time. When he was released, he realized the police hadn't noticed the joint he left in his cigarette pack. Had they found it, he likely would have been charged with a felony.
As soon as he was away from the police, he smoked the joint and picked up some pills from his dealer. He ate everything the dealer sold him in one night. The next morning, he decided it was time to quit.
It was July 21, 2010, when Wright finally decided to get sober. He was 35.
"The buzz wasn't good. The buzz was awful," Wright said. "I knew what I had to do the whole time. I just couldn't do it."
He moved back in with his parents and told them they needed to watch him. He was determined to quit cold turkey.
Five days later, he remembered, the withdrawal symptoms drove him into a rage. He was sick and angry when he slammed across his parents' deck.
Collapsing in the driveway, he began to pray. It was the first time he was earnest about asking God for help.
He asked for strength.
"It was awesome because I felt his power inside of me," Wright said. "I just laid out there and cried. And, man, I felt different."
The athlete said that moment in his parents' driveway is what made his final attempt at sobriety stick. It was a humbling moment.
He was baptized after his 53rd day of sobriety. He used the occasion to announce he was clean on social media, hoping the announcement would keep him accountable. He's continued to post about his sobriety, keeping track of how many days have gone by since he drank or got high.
Chuckling, Rachel added that community members — sometimes strangers — will occasionally approach them in public to ask what day he's on. He doesn't always know off the top of his head, but a website he put together, www.brentwright.com, helps him keep track. Thursday will mark 4,684 days sober.
After his first year free from drugs and alcohol, Wright said, he decided to replace the junk food he was leaning on with fitness.
He started by attending classes at Indiana Pit, a local martial arts and fitness gym.
"I just became like an animal," Wright said. "I was releasing the beast, so to speak, of addiction in the gym."
He began using exercise as an outlet for stress relief, self improvement, challenge and mental fortitude.
His enthusiasm for fitness blossomed from there, Wright said.
Using his story
Given his reputation on social media, Wright is occasionally approached for advice. He's also been asked to speak at schools, such as a D.A.R.E. event.
What he tells the person reaching out to him depends on who they are and how serious they are.
For example, he tells parents of addicts that there isn't much they can do in terms of pushing their children toward sobriety. The addicts have to choose for themselves whether they want to get sober.
If he's talking to an addict who is serious about getting clean, he might tell them to start training, reading or pursue education.
Although the Wright couple likes to travel and they own two businesses, one for wedding decor and another for cleaning services, Wright still tries to make time to speak with struggling addicts.
"Who knows if it helps. All I know is if they get clean later," Wright said, adding he'll occasionally look up someone who reached out to him on social media. "I don't know if they hate me after it or if they like me. I don't really talk to a lot of them ever again. But I'll watch their social media."
To celebrate Wright's 10-year anniversary of sobriety, Rachel asked community members to make a video explaining how Wright had affected their lives. She wanted to show him that his decision to get clean had made a positive impact on the people who knew him.
There were enough responses to Rachel's request that she wound up having to split them between two different final videos.
The video has since helped other people in recovery to stay clean, Wright added.
The Muscle & Fitness Magazine competition has now offered the athlete another way to share his story.
While posting information about the competition online, Wright has reminded his followers that "recovery and fitness go hand in hand." On his competition page, where people are able to vote for his entry in the competition, he wrote about his relationship between addiction and fitness.
The competition is split between several phases. Until 7 p.m. Thursday, votes will be used to determine the top 15 candidates. From there, the voting pool will shrink until July 6. The winner will be announced July 13.